Products
Gas Assisted Moulding
Nitrogen Compressor: HPCOM T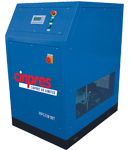 Cinpres' HPCOM 18T EDC (Electrical Driven Compressor) is a "true" vertical configuration reciprocating piston high pressure compressor system. The compressor block is manufactured by the world renowned JP Sauer & Sohn Germany. With an out put flow rate of 250-300Nl/min at 350 BarG the system can supply up to 4 IMMs running GAM tools.
Nitrogen Compressor: HPCOM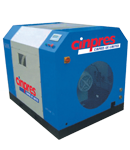 For larger installations Cinpres UK Limited offers the HPCOM32 EDC with and out put flow rate of 510Nl/min at 350 Barg, sufficient to run 7-8 IMMs. This horizontal configuration EDC reciprocating piston compressor also uses a Sauer & Sohn motor and block.
Nitrogen Compressor: GBA5
For single IMM applications running from a Bottled Nitrogen supply, Cinpres' GBA5 Gas Booster (ADI) Air Driven Intensifier can supply 93Nl/min Nitrogen out put at 350 BarG.